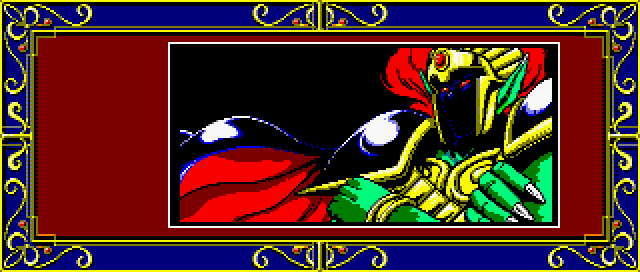 Suddenly, the room grew cold. A black mist swirled around them, then took on a hideous shape.
"Are you the fool who dares to challenge me? Don't be absurd!"
"And you must be the evil Jashiin!"
"You shall address me as the Emperor of Chaos... THE EMPEROR OF CHAOS!"
"Young fool, I could destroy you now, but I need a little amusement. I will give you some time to perform your little quest, but you must promise not to bore me."
"Of course, you have no hope of defeating me."
"Mark my words, evil one: I will not stop until I have reclaimed the nine holy crystals, and sealed you under the earth once and for all!"
The demon laughed, and the sound was like breaking glass.
"My labyrinths are immense, and run deep into the earth. You'll soon lose your way, and then my underlings will finish you off."
"It's been many years since a stray mortal has wandered into their realm. They are hungry for human flesh."
With that, Jashiin disappeared leaving echoes of earsplitting laughter.